Mar Menor & Places of Interest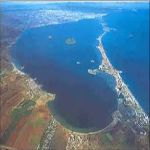 Mar Menor is a salty lagoon, in the south-east of Murcia, Spain, separated from the Mediterranean sea by La Manga, a sandbar 22 km in length. It belongs to four municipalities: Cartagena, Los Alcázares, San Javier and San Pedro del Pinatar. With a surface area of nearly 170 km², a coastal length of 70 km, and warm and clear water is no more than 7 m in depth. A water sports delight and perfect for all the family with miles of clean sandy beaches and warm very shallow water with excellent buoyancy. First the Phoenicians and then the Moorish Kings, chose this "small sea" as the site of their summer residences. Today, this area attracts all those who seek a quiet place to rest and relax, with ideal weather conditions all year round with an average of over 300 days of sunshine every year. If you decide to travel a little further and have hired a car or decide to try the local transport there are some wonderful sites to see and a wealth of history dating back thousands of years. Below is just a taster of what is on offer within an hour or so. .
Cartagena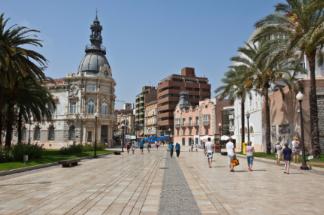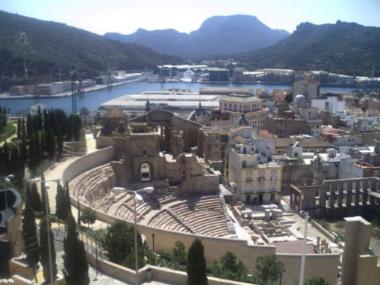 Cartagena is situated a little further down the coast only about 25kms, 20 mins by car, accessible by bus from Los Alcazares It is a Roman sea port dripping with history which is still used today by the military. In the centre there is a complete Roman Amphitheatre discovered some years ago, by accident, which has been excavated and restored to it's former glory. Topped by a most impressive castle offering spectacular views out to sea. An excellent evening out can be had in the beautifully paved streets, shops, bars and restaurants open into the late evening, providing a perfect place to enjoy the excellent cuisine on offer..
Murcia City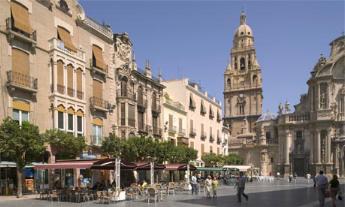 The historic and impressive city of Murcia, a little further away, some 45 mins by car. A Cathedral city with a wealth of architectural streets to wander through and a number of very impressionable plazas, all providing the necessary eating and drinking stops! Stroll along the river which divides the city or visit the imposing Cathedral, there is more than enough here to keep you occupied.
Cabo de Palos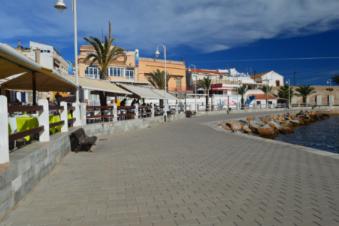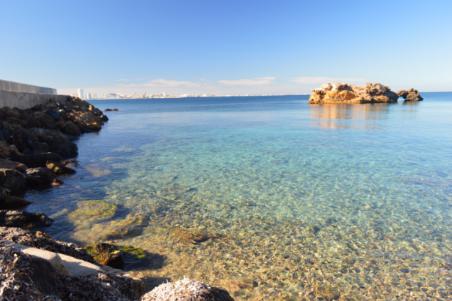 About 30 mins from Los Alcazares and on the western end of the Mar Menor is Cabo de Palos, actually on the Mediterranean. A beautifully unspoilt fishing port with a particularly picturesque harbour and a lovely well hidden beach with a view of the La Manga strip from the other side. The choice of restaurants are exceptional and the feeling of complete relaxation, whilst having lunch and staring out to sea, will be difficult to forget. We promise you, once visited, you will return. In the town there is also an excellent CERAMICS shop providing a huge range of authentic Spanish products..
Aledo and the Sierra Espuna National Park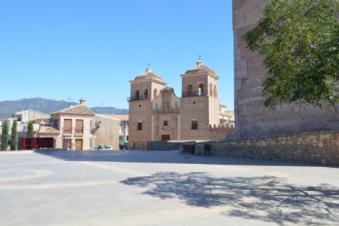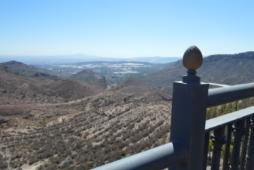 Around an hour north west is the Espuna National park, a mountainous region climbing to over 1500m. If you have a car it is not to be missed as the views and countryside are truly breath taking. Along the route you will come across Aledo, a sleepy Spanish hilltop town built on a rocky outcrop with what has to be the most spectacular vista in Murcia. Drive on upward and eventually you reach around 1500mtrs with plenty of places to stop and take in the amazing scenery. On the way down there is a wonderful restaurant/bar set in a wooded area, to break the journey, if closed there is a wooded picnic area opposite. All this said it is a slightly "bendy" road both up and down and slightly narrow in places!!